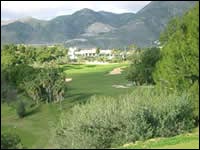 Built in the 197os by Málaga's favourite golf course designer, Pepe Gancedo, Torrequebrada has flourished and is highly popular and a delight to play. Torrequebrada has lakes and mature semi - tropical vegetation, and offers superb views of the Mediterranean.
The 11th hole is one of the most testing on the course, a 164-metre par-3. your tee shot has to take into account water at front of the green, bunkers surrounding it, and then the green itself is on two levels. The 1979 Spanish Open was held here.
How to get there: The course can be reached via the Costa del Sol highway (Exit 222-Arroyo) or by taking the turnoff at the Torrequebrqda Hotel on the coastal road N-340.
Address/Dirección: Carretera de Cádiz N-340, Km. 220. Apartado de Correos 120. 29630 Benalmádena-Costa, Málaga. Telephone: 952-44-27-40